LEGENDARY SINGER KATHY SLEDGE IS FIRST SIGNING, LAUNCHED IN IBIZA AT THE 16TH ANNUAL DJ AWARDS
Veteran Record Executive Jerry Greenberg has formed a new worldwide music company, Pacific Electronic Music (PEM) with Ibiza based electronic producing and DJ duo, The Aristofreeks. PEM's first signing is Kathy Sledge, lead singer of Sister Sledge. The company will have headquarters both in Beverly Hills and Ibiza and will focus on releasing electronic dance music with global appeal. It will be distributed globally by Kobalt Music's AWAL distribution arm.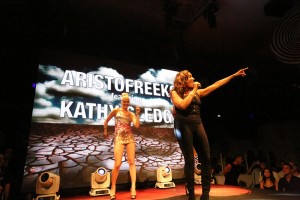 PEM launched the label at the 16th Annual DJ Awards in Ibiza, September 25, 2013, with a live showcase of The Aristofreeks and Kathy Sledge performing "We Are Family". The Ibiza DJ Awards presented Jerry Greenberg with the coveted Lifetime Achievement Award for his decades of hands-on shaping the music of generations. Furthermore, the organization also awarded Kathy Sledge the prestigious Outstanding Contribution Award for her work both inside and outside the music industry.
Greenberg who at 32, became the youngest ever major label president when he was elevated at Atlantic Records will serve as Chairman of PEM. At Atlantic Greenberg signed classic rock acts Genesis, Foreigner, and Whitesnake, among others. He oversaw the massive success of both The Rolling Stones, AC/DC and Led Zeppelin, to name a few. In addition to his successes in the rock genre, forming this new company marks a return to Sledge and his dance music roots. Greenberg not only signed Sister Sledge to Atlantic but also engineered their massive success with disco classics like "We Are Family" and "The Greatest Dancer." Read the rest of this entry »